2018-2019 Research Assistants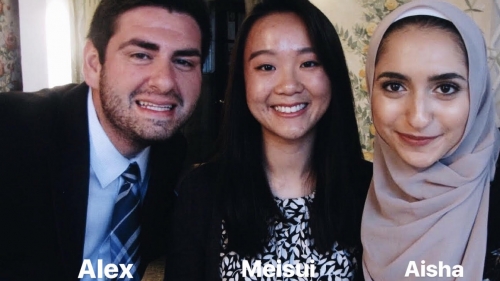 Alexander Prete, BS (MGH)
Alex grew up in North Branford, CT. He received his Bachelor of Science degree in Biochemistry with a minor in Medical Humanities, Health, and Culture from Boston College in 2018. In college, Alex worked as a researcher in Hematology at Brigham and Women's Hospital, and was the Editor of Layout for the Medical Humanities Journal of Boston College. In his spare time, Alex enjoys cooking, exploring new Boston restaurants, and shopping for old vinyls.
Email: aprete@partners.org
Aisha Obeidallah, BA (MGH)
Aisha grew up in Wayne. NJ. She received her Bachelor of Arts degree in Biology from Brown University in 2018. As an undergrad, Aisha conducted malarial research in the Nixon Lab at the Center for International Health Research. She also served as a Women In Science and Engineering (WiSE) mentor and a Teaching Assistant for Arabic and Biology classes. Furthermore, she is currently a member of the Steering Committee for Partners In Health Engage. In her spare time, Aisha enjoys cooking, hiking, and café hopping.
Email: aobeidallah@mgh.harvard.edu
Meisui Liu, BS (MGH)
Meisui grew up in Boston, MA. She received her Bachelor of Science in Biology and Health: Science, Society, and Policy (HSSP) from Brandeis University in 2018. At Brandeis, she served as Co-President of Brandeis Education for Students by Students (ESS), and organized educational opportunities for local high school students. In her free time, she enjoys cooking, kayaking, and snowboarding.
Email: mliu11@partners.org