2021 Outcomes Report (Dr. Elhassan):
One of the Core Values of our service is measurement and transparency. Thus, every year we review all surgical cases and report these publicly. Of course, conclusions as to durability of outcome cannot be made from this report; however, the depth and breadth of surgical cases is illustrated. Moreover, complication rates are reported, but ultimate outcome is not possible with such short follow-up. 2021 was unique in terms of the impact of COVID-19 on clinical volume.
Dr. Elhassan's outcomes data is systematically reviewed by his Research Assistants utilizing the medical records system of Massachusetts General Hospital as well as our prospective Patient Reported Outcomes Database (SOS™, Arthrex, Naples, FL). Our methodology consisted of a review of all operations performed during the calendar year on a case-by-case basis, with special consideration made to procedure type, patient past surgical history (primary vs. revision status), and any complications arising during or after an operation. This data was collected, aggregated, and independently analyzed by the two Research Assistants with no direct input from the attending physician.
Physician Overview for the Year 2021
330 surgeries were performed throughout the year 2021
Of these 330 operations, 186 were primary surgeries. Additionally, 50 were revisions of his own past cases (these revisions were performed in the 2021 calendar year, but the primary operation could be from prior years), and 94* were revisions of other surgeons' cases.
2021 Surgeries Organized by type: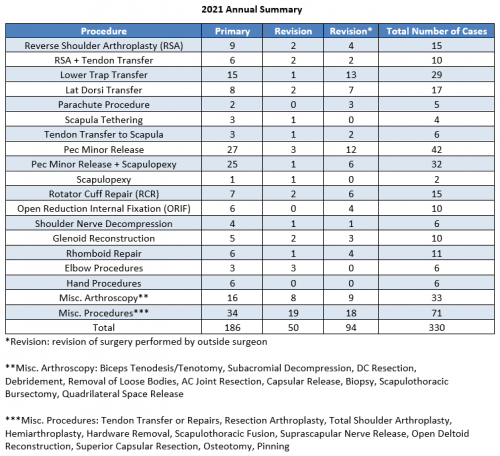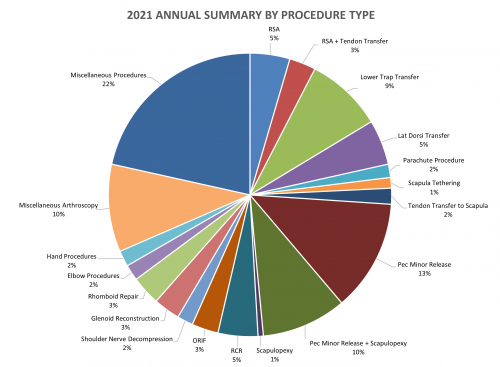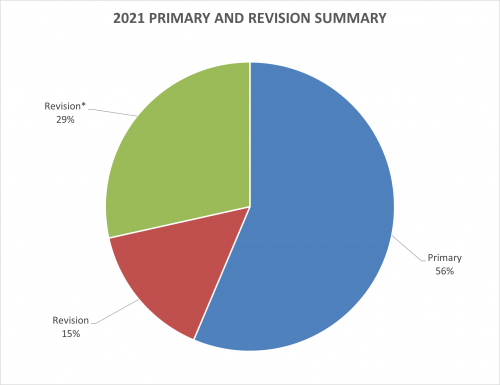 *Revision (green portion of above graph): revision of surgery performed by outside surgeon
2021 Revision Timeline
For the 15.2% of Dr. Elhassan's cases that required a revision, the average length between the primary (index) and revision procedure was 0.9 years, ranging from 7 days to 8 years (red portion of the graph above). These revision procedures are summarized below:
2021 Summary of Dr. Elhassan's Revision Cases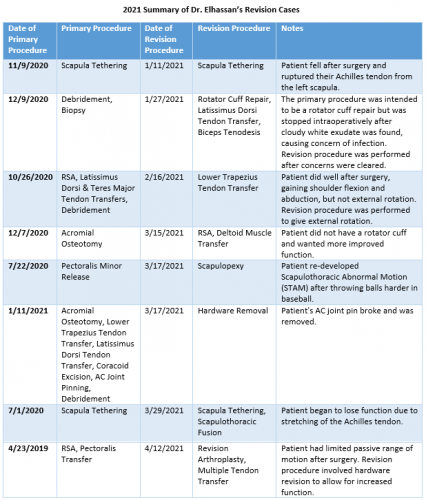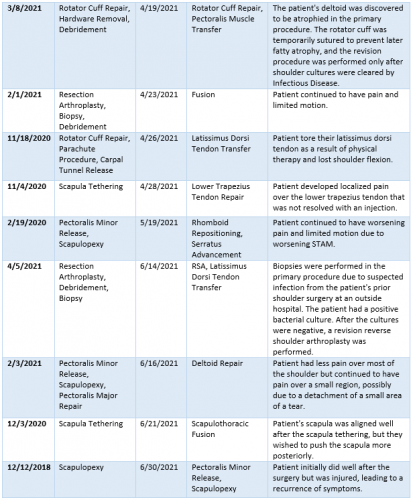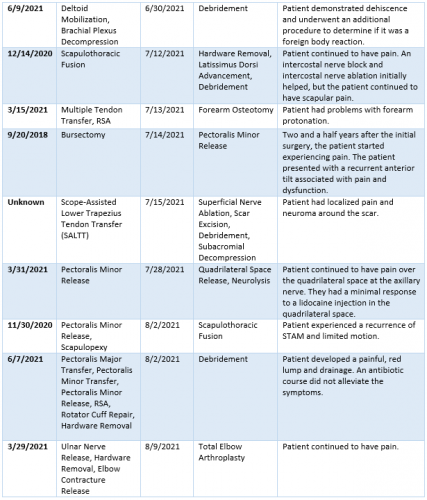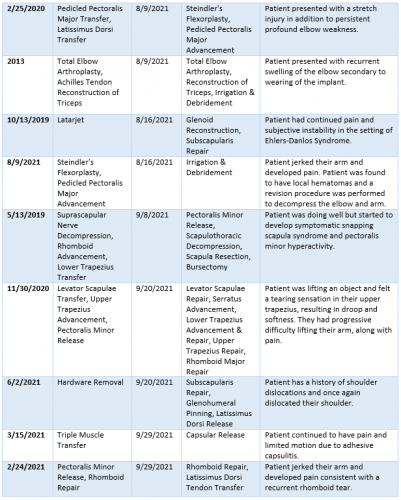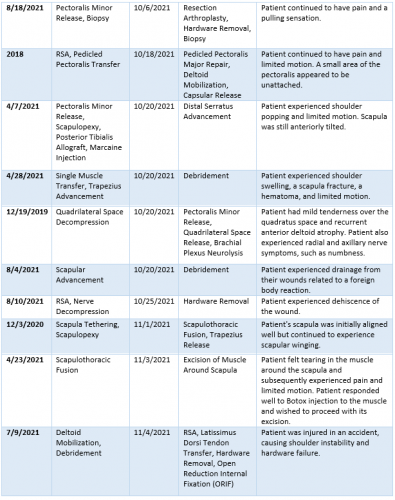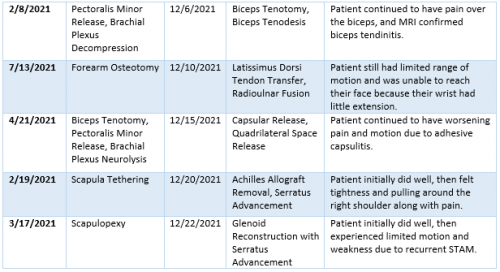 2021 Surgical Complications
Reported below are all of Dr. Elhassan's complications during the 2021 calendar year. Of the 330 surgeries performed by Dr. Elhassan, 10 patients (3.3%) experienced a complication. These complications were identified in the calendar year 2021, but the primary operation could have occurred in prior years. Please see the data depicted below. Of note, nerve issues constitutes the most prominent complication.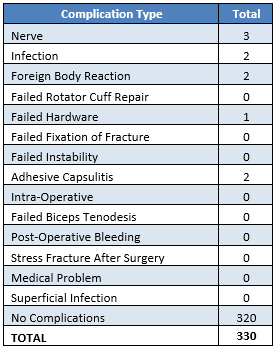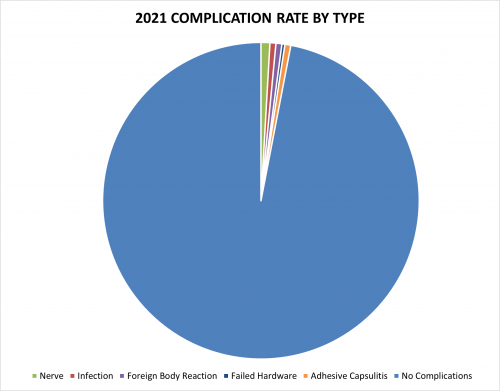 Management of Complications
Of all 330 surgeries in 2020, 10 cases (3.3%) had to be readmitted to the hospital for an additional operation. In the spirit of transparency and accountability, the Boston Shoulder Institute is providing details for each complication. This will enable patients to be fully informed as to risks of surgery. Each of Dr. Elhassan's 2021 complications is detailed below, along with whether it is resolved or ongoing.
Of the 10 total cases, 1 has fully recovered and 9 have an ongoing problem. These are shown below in Green (recovered) and Red (not fully recovered).
A detailed recount of the readmissions follows:
Nerve

Following a contra-lateral trapezius transfer to the lower trapezius, levator scapulae to scapula, and upper trapezius to proximal humerus, the patient developed nerve palsy in their fingers and elbow. This was possibly due to the position of their cast post-op that caused nerve stretching. Patient underwent neurolysis surgery with plastics and neurosurgery.

This patient has fully recovered.

Three months after a revision scapulothoracic fusion, patient continued to have pain and tenderness in their scapulothoracic area. Intercostal nerve block and intercostal nerve ablation were performed, but patient continued to have pain and tenderness. Irrigation and debridement, partial hardware removal, and latissimus dorsi advancement were performed and the patient's symptoms were partly improved. The radicular symptoms were found to be related to entrapment of the intercostal nerves.

Patient is being seen by pain management and other specialties.

Following a scope assisted lower trapezius transfer, patient presented with scar tenderness secondary to neuroma around the scar. Scar excision, superficial nerve ablation, release of scarring, and diagnostic arthroscopy were performed. Patient's wounds were healing nicely and their range of motion was very good.

Patient will continue to be followed.

Foreign Body Reaction

Two weeks after a partial resection of the posterior lateral clavicle with mobilization of the trapezius, deltoid, and flap around the clavicle for stability, patient presented to the emergency room with a draining wound and dehiscence. Drain resection, irrigation and debridement, and primary wound closure was performed. Suture tape was removed due to foreign body reaction with superimposed infection.

Patient continues to have some peri-incisional pain but is improving with physical therapy and will continue to be followed.

Two weeks following a serratus bony insertion advancement to the scapula, patient developed wound drainage secondary to foreign body reaction from deep sutures. Irrigation and debridement along with suture removal was performed.

Patient continues to be followed up for their scapulothoracic abnormal motion.

Infection

One week following a complex shoulder reconstruction with contralateral latissimus free flap muscle transfer coverage, the patient returned for a series of wound irrigation and debridement. The patient had an extensive history of multiple shoulder surgeries and was progressing slowly. Patient had wound dehiscence and eventually had a revision surgery to remove hardware and debride and close the wound.

Final recovery is not yet known.

One week following Steindler's flexorplasty, patient had pain and tenderness develop after movement caused their arm to jerk. Patient had local hematoma which required irrigation and debridement to decompress the elbow and arm.

Patient also had ulnar neuropathy that is slowly improving with physical therapy, and their prognosis is continuing to be followed.

Failed Hardware

Following corrective osteotomy of the acromion, revision lower trapezius transfer, and latissimus dorsi transfer, patient was recovering well. A CT scan showed the AC joint pin was broken and a procedure was performed two months after surgery to remove the pin. Because a portion of the pin was embedded in the lateral clavicle, it was not completely removed.

Final recovery is not yet known.

Adhesive Capsulitis

Three months after a triple tendon transfer for trapezius paralysis, patient was doing well from a tendon transfer perspective but developed adhesive capsulitis. Capsular release, axillary nerve neurolysis, and gentle manipulation under anesthesia were performed to address the adhesive capsulitis. Patient's range of motion was improving, but experienced significant immediate pain during physical therapy.

Final recovery is not yet known.

Five months after a biceps tenodesis, pectoralis minor release, and brachial plexus neurolysis for pectoralis minor hyperactivity and infraclavicular brachial plexus entrapment following a traumatic injury, patient developed adhesive capsulitis. Arthroscopic capsular release, gentle manipulation under anesthesia, and quadrilateral space release were performed eight months after the initial surgery. Patient continues to have pain and limited range of motion and is continuing with physical therapy.

Final recovery is not yet known.