Shoulder Instability Surgery
A one year snapshot (2013-2014) for Dr. JP Warner
87 Instability surgeries were performed; however 6 patients were lost to follow-up as many traveled from international destinations or non-contiguous states in the USA and could not be reached to answer questions about their results. Two patients had unrelated complex medical problems which intervened and made assesment of their surgical outcome difficult. Anterior and Posterior Bankart as well as Capsular Shift procedures were performed arthroscopically, while all Latarjet procedures were performed as open surgery.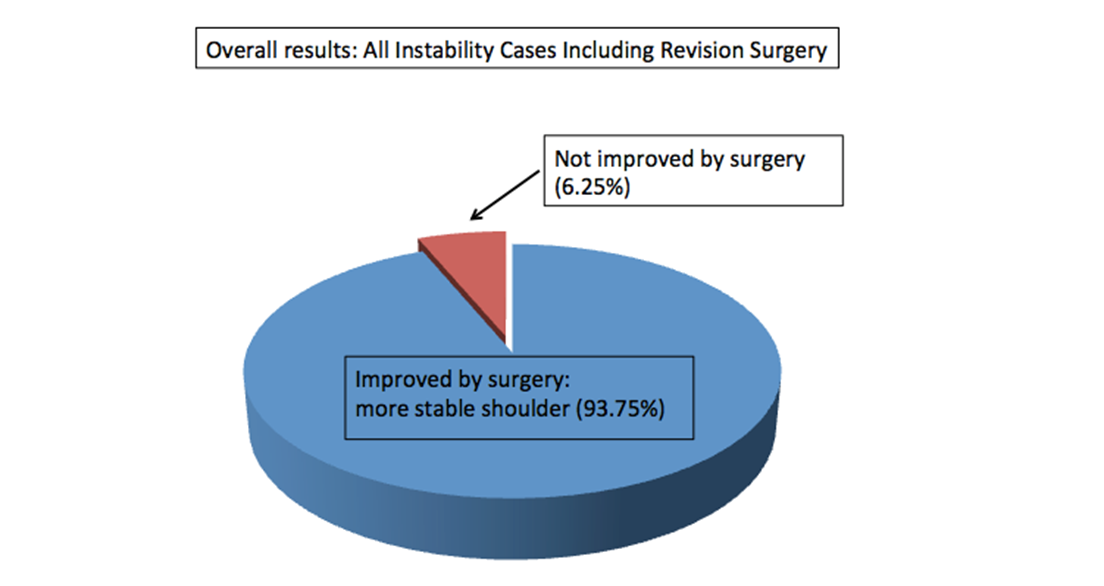 ** "improved" is defined as having a more stable shoulder and less pain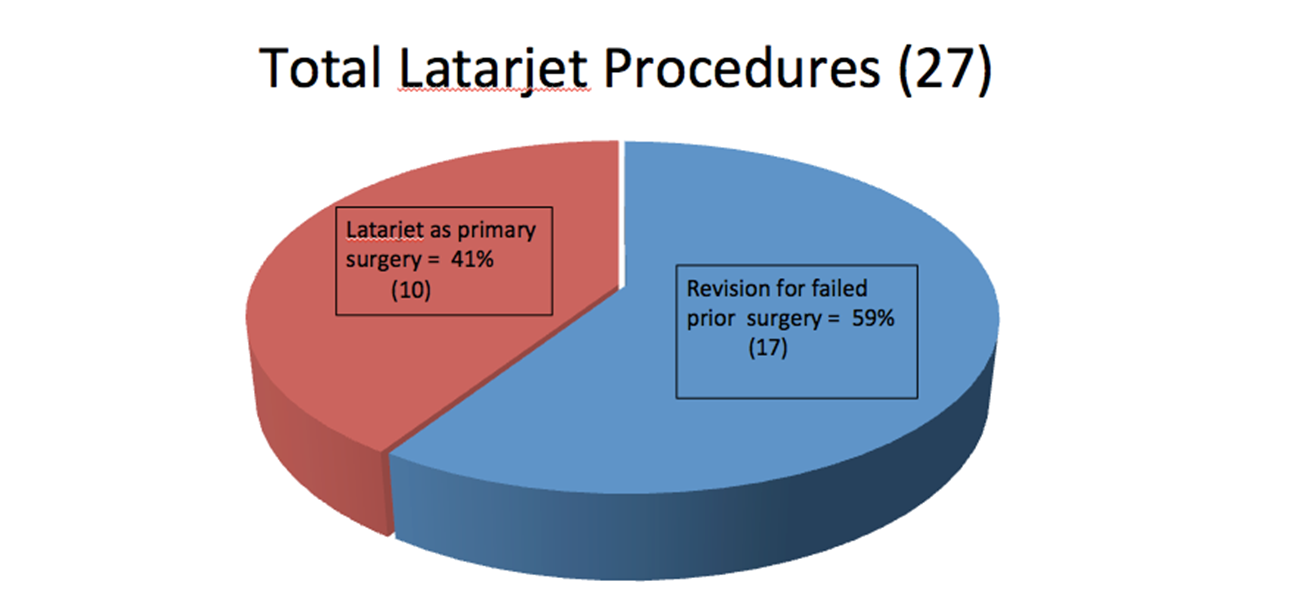 Most Latarjet procedures were performed in the setting of a prior failed instability surgery. All were performed for some degree of bone loss along the glenoid socket.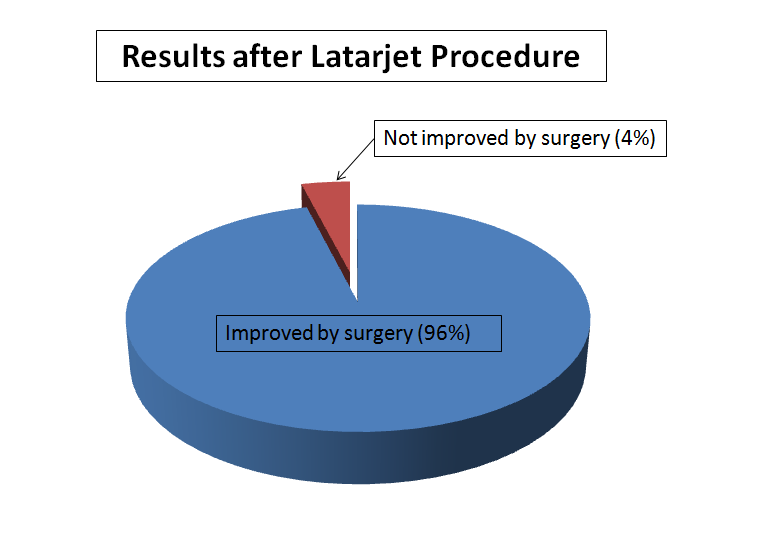 The overall complication rate after Latarjet was 15% however only one of the 4 patients who had a complication was dissatisfied with their overall result. The complications and their outcomes were as follows:
1 patient with failure of bone graft to heal: after removal of screws he remained satisfied with the outcome
1 patient with failure of bone graft to heal: after revision to new bone graft he was satisfied
1 patient sustained a pulmonary embolism: this patient fully recovered and was satisfied with surgery
1 patient sustained a nerve injury of the axillary nerve: he underwent a nerve graft procedure and remains unsatisfied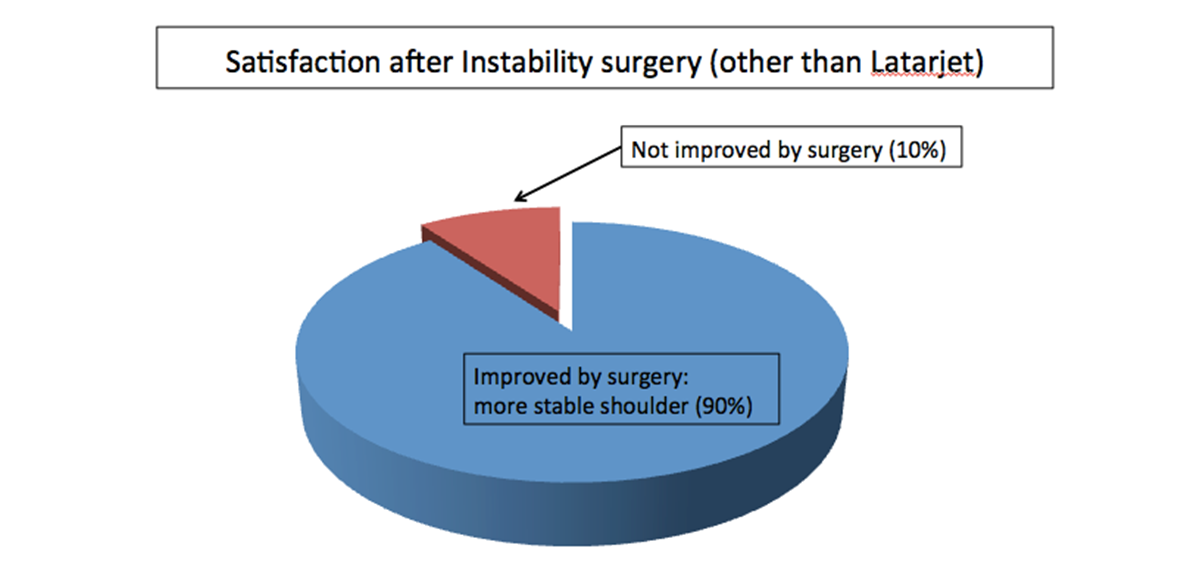 "Satisfied" = "Improved by surgery" = improved stability and less pain.
Complication rate was 4% (2 patients)
1 patient with a temporary disfunction of the axillary nerve: fully recovered
1 patient with a retear of the labrum: this patient did not feel that the surgery improved his condition
Examples of Complications and Failures:
Failure of Bone Graft Healing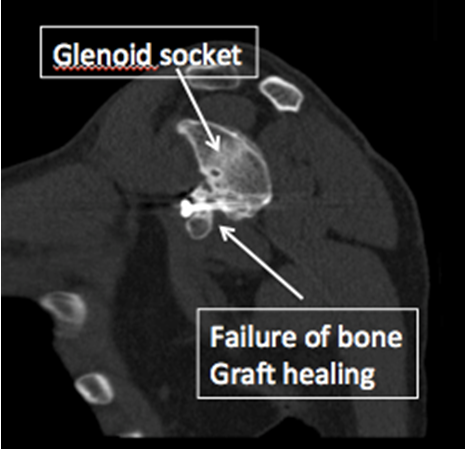 Failure of Posterior Bankart repair due to wearing down (erosion) of the back of the socket. 
26 degrees of retroversion compared with normal of less than 5 degrees.