Fellowship Mission Statement
The mission of the Boston Shoulder Institute is to provide Regional, National, and International leadership in the advancement of care for problems affecting the shoulder. This mission is based on advancement of knowledge through research, improvement of care through education of physicians, and clinical management of all Problems affecting the shoulder.
This mission is built on a three point foundation: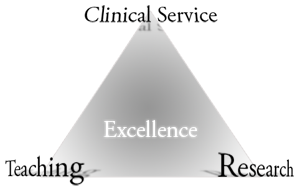 Apply for a Fellowship (Click here)
Teaching Mission
Our teaching mission is built on the strategy to develop excellent Shoulder & Elbow surgeons who will provide high quality care of both routine and complex problems. While some may choose to go into private practice and some may elect an academic path, our goal is to foster an open mind and thoughtful approach to complex problems. This approach is built on the foundation of a global academic shoulder community. Thus fellows will not only have the opportunity to learn from us here at Massachusetts General Hospital, but also from our shoulder colleagues in Europe.
"The tension for change is fueled in a shared understanding of current reality."
"Discovery consists in seeing what everyone else has seen and thinking what no one else has thought."
– Albert-Gyorgi, Nobel Laureate
Fellowship Description
The Boston Shoulder and Elbow Fellowship is based at the Massachusetts General Hospital, as part of the Partners Healthcare System and Harvard Medical School and New England Baptist Hospital in Boston. Our mission is to provide regional, national, and international leadership in the advancement of care for problems affecting the shoulder. Our training program has formally been in place since the 2001-2002 academic year, having previously existed in some form since 1998. Each year we strive to offer an even better curriculum and training experience to the next generation of shoulder and elbow surgeons by growing and developing our program with cutting-edge research and theory.
This is a one-year fellowship program which will be organized with rotations at the Massachusetts General Hospital and New England Baptist Hospital. There is one core physician who will teach the fellows through individual rotations with hands-on learning and mentorship: Dr. Jon JP Warner, as well as three additional faculty members that are actively involved in teaching our fellows: Dr. Neal Chen (MGH), Dr. Andy Jawa (NEBH) and Dr. Luke Oh (MGH). Opportunities for elective rotations are available in seven different European locations, and provide novel educational experiences in shoulder and elbow to supplement the Harvard experience.  This is an optional rotation, and stipend for travel and living expenses is provided by the program.
Fellows are trained with the goal to become clinical and academic leaders in the field of shoulder and elbow surgery.  Training is centered on development of advanced technical competence gained through outpatient clinics, surgical experience, inpatient responsibilities, presentations, publication development, research and didactic components and conferences.  Opportunity for both basic science and clinical research are available.  Two full time research assistants are employed each academic year to facilitate data collection, research study development and publication for the fellows.
Throughout the training program the fellows will be asked to practice cost-effective health care and resource allocation that does not compromise quality of care. He/she will need to advocate for quality patient care and assist patients in dealing with system complexities. Training is keenly centered upon delivery of integrated care for the patient through an outcome and value driven shoulder care model.  The experience will entail exposure to all problems affecting the shoulder from arthroscopy to arthroplasty and with an emphasis on complex problem solving. Approaches to traumatic and reconstructive management of elbow will also be part of the experience.  By the end of the program the fellow is expected to be proficient in the management of the entire gamut of shoulder and elbow surgery, from diagnosis to both operative and non-operative management.  Fellows are credentialed as full Attending Physicians and our program provides a busy operative experience with each fellow involved in over 400 cases either as surgeon or first assistant.
The objectives of our fellowship training program aim to allow fellows the opportunity to develop the best surgical skills through superior training and experience with routine and complex surgical issues; autonomy in judgment for patient care paths and exposure to international best practices and technique.
(This fellowship participates in the ASES match program)
Research Opportunities
There are both Basic and Clinical Research Opportunities at MGH
Ongoing Research at MGH:
Prospective Database Outcome Studies
Shoulder Simulator Training to improve arthroscopic skills
Structure of the Fellowship
The Boston Shoulder Institute Fellowship began in 1999 and has evolved into a program of three (3) fellows who are selected each year in December through the A.S.E.S. (American Shoulder and Elbow Surgeons) match.
Patient Care:
The Shoulder Fellow is responsible for care of in-patients for Ds. Warner. There should be a discussion with each attending at the start of the rotation, and as needed throughout the rotation in order to clarify this role. All patients admitted to the hospital after surgery should be rounded on by the fellow in addition to the resident. Shoulder fellows are also responsible for assisting Dr. Warner  in outpatient questions related to ongoing care. The fellows cover patient calls on weekends and after hours through our answering service. There is no trauma call.
Resident Interaction:
The Shoulder Fellow's role is to act as a facilitator for the resident's education and to guide the resident in the care of patients on the Shoulder Service. Residents at the PGY-5 level will rotate on the Shoulder Service, though their participation in clinic and the operating room will vary on a day-to-day basis. When they are present in the operating room Dr. Warner  will discuss with the team the role each will play with the cases to be performed that day. The goal is to teach not only clinical and surgical decision-making for the resident, but also some components of surgical technique.
Relationship with Residents:
It is expected that at all times the relationship with residents on the Shoulder Service be a cordial and collegial one in which the resident feels welcome as a member of the team. Specific educational goals have been set forth for the residents and the Fellow should be an active participant as a teacher in order to help them achieve these goals.
Vacation policy:
This is a rigorous fellowship with extensive commitment to clinical experience. Furthermore, the fellow is an active participant in the team both in and out of the operating room. Thus vacations had been an afterthought in the past. Our policy would be that Fellows are entitled to vacation time, but it would be best to try and coordinate with your individual attending to take this time when he is away. Furthermore, we are aware of the need and support your time away to interview for potential job opportunities. Moreover, with the elective opportunities in Europe there will be plenty of time for R & R.
Other Teaching Opportunities:
From Time to time Fellows may be asked to play a role in local courses teaching on behalf of Dr. Warner. There will also be Cadaver Shoulder Arthroscopy Labs. For the residents and the fellows will be instructors at these labs. during the year.
Evaluation:
Each fellow will receive a formal written evaluation from the attending(s) with whom they rotate. Ongoing feedback will also be given by each attending in the spirit of constructive criticism. The goal is to help each fellow grow professionally in their skills as clinicians making treatment decisions, and as surgeons who improve their skill.
Questions & Concerns:
Dr. Warner will remain open at all times to any questions and concerns; indeed, we encourage input from Fellows to improve this program. If problems arise the fellow should feel comfortable to approach any one of us at any time. Welcome and have a good year.
Europe: French & Swiss Connections: 1-2 month elective in one or more centers.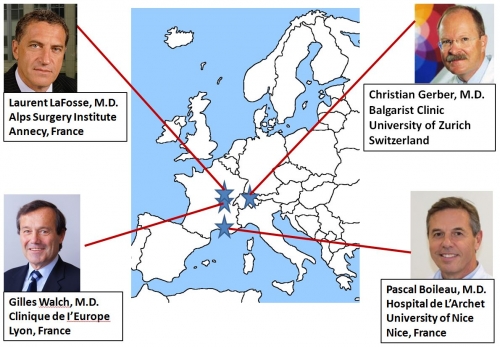 Laurent Lafosse, M.D.
World renowned shoulder arthroscopist and reconstructive surgeon who is redefining the limits of arthroscopy and arthroplasty and in so doing, redefining the standard of care. Key areas of pioneering:
Arthroscopic suprascapular nerve release
Arthroscopic Latarjet Procedure
Arthroscopic subscapularis repair
Developer of new DeltaTM Reverse Prosthesis (DePuy).
Gilles Walch, M.D.
World renowned arthroplasty and reconstructive shoulder surgeon who has been President of the European Society for Surgery of the Shoulder and Elbow( S.E.C.E.C.). He has redefined the state-of-the-art of shoulder arthroplasty through his clinical and basic science work which lead to the development of shoulder arthroplasty. Key areas of pioneering:
Development of the AequalisTM (Tornier) Shoulder Arthroplasty
Development of the Aequalis Reverse Prosthesis (Tornier)
Clinical pioneer in methods of rotator cuff repair
Christian Gerber, M.D.
World renowned shoulder surgeon and scientist who is, quite simply, the "Albert Einstein" of Shoulder Surgery. He is currently Chairman of Orthopaedic Surgery at Balgrist Clinic, University of Zurich, and has been President of the European Society for Surgery of the Shoulder and Elbow (S.E.C.E.C.). Key areas of pioneering:
Development of the Anatomical Shoulder SystemTM (Zimmer) for modular and unified approach to conventional arthroplasty, Inverse prosthesis, and Fracture stem
Kappa Delta Award for Research on Bench to Operating Room for Rotator cuff Repair
Scientific contributions to understanding rotator cuff disease and it's treatment.
Developer of Latissimus dorsi transfer for irreparable RCT
Contributions to clinical and basic science of all aspects of shoulder disease and it's treatment
Mayo Clinic Elbow Elective:
Our colleagues at the Mayo Clinic have graciously offered to allow our fellows a one month elective rotation to observe the management of Elbow surgery.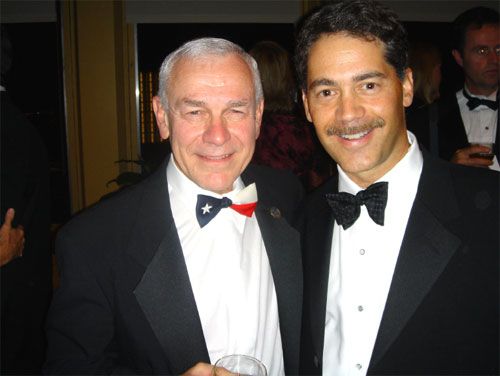 "Such an amazing experience to be able to spend 2 months in Europe and to spend time with Dr. Lafosse and Dr. Walch. For the last month, I was able to go to clinic with Dr Walch at least 2 times per week and then 1 day for the OR/week. He is a great teacher. I learned a lot from him. He does a very good arthroplasty and Latarjet. Although, I think overall you have the most complex patient population. Thanks again for setting this experience up for me with your connections!! It's probably one of the best 2 months of my life both professionally and personally."
Xinning "Tiger" Li showcasing his elective experience at the Alps Shoulder Institute
Tim Hartshorn shows his experience with Dr. Christian Gerber in Zurich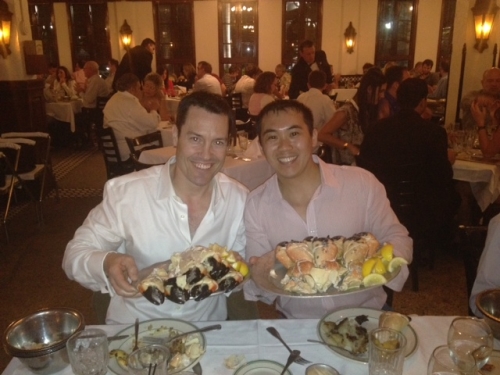 Joe's Stone Crab Restaurant: Joe Eichinger and Xinning "Tiger" Li. Fellows' Arthroscopy Course, Miami, May 2013.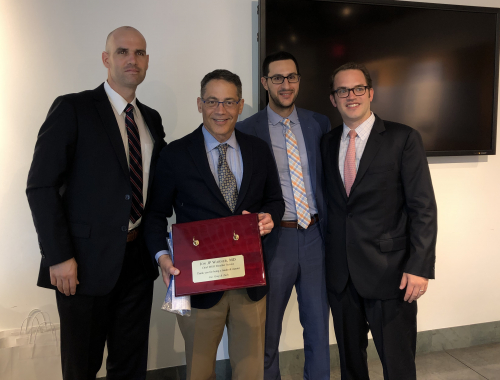 2019 Fellows Graduation Dinner (Joe Galvin, Greg Gasbarro, Zach Zimmer)
 Conferences
MGH Indications Conference:
There will be an Indications Conference on most Tuesdays between 7-8am at the MGH. Shoulder Fellows #1 and #3 who are working with Drs. Warner and Higgins will be responsible for organizing x-rays and charts of all patients who will be having surgery the coming week. In addition, Shoulder Fellow Clinic cases which are selected for surgery should also be presented. The opportunity to present interesting or challenging cases will also be available on an ongoing basis. The purpose of this conference is to develop an insight into decision-making in straight-forward and routine cases. From time to time this period will be used as a journal club discussion of important articles.
MGH Combined Sports Medicine & Shoulder Conferences:
Each Thursday from 8-9AM The Sports Medicine Service holds its conferences. Periodically the topic will be shoulder and the Shoulder Service will be invited to participate. In advance of these dates where shoulder is the specific topic the Fellow on either Dr. Warner's Service or Dr. Higgins' service will be responsible for preparing the presentation. These presentations are to be case-based. For example, Instability cases to illustrate the treatment of these conditions. Many such conferences have already been saved on the Fellow's Educational Database on the computer in the Fellow's office. Dr. Warner will review each presentation with the assigned fellow prior to his (her) presentation.
MGH Elbow Conference:
The program is being developed between the MGHHand and Upper Extremity Service and the Shoulder Service and will take place every six weeks on Tuesday morning at 8am in place of Indications conference.
MGH Shoulder Fracture Conference:
The program takes place once every six weeks on Thursday mornings at 8am in collaboration with the Trauma Service at MGH.
Special Conferences:   
Throughout the year the Shoulder Service may host visiting professors and meetings, including cadaver arthroscopy workshops. The fellows' responsibility at each of these events will be clearly outlined in advance.
Annual New England Shoulder and Elbow Society Mtg., Jay Peak, Vt. (www.neses.com):

This is an annual meeting held at Jay Peak Ski Resort in Northern Vermont each January or February. It is a Friday-Sunday meeting. JP Warner is past President of the society.

Click here

to see highlights from the 2015 NESES Annual Meeting.

Annual N.E.S.E.S. Visiting Professor Elbow Sports and Arthroscopy Lectureship and Teaching Laboratory (Spring of each year):

In April 2007, Drs. Augustus Mazzocca and Frank Alberta taught UCL Reconstruction and, Distal Biceps Repair, and Elbow Arthroscopy at Smith and Nephew in Andover)

Advance Arthroscopy Course, val d'Isere, France:

This course is available every other year in val d'Isere, France. It is a week-long course dedicated to advanced arthroscopic shoulder surgery. JP Warner acts as Member of Scientific and planning committee for the course.

Click here

to see highlights from the 9th Advanced Course on Shoulder Arthroscopy held in Val d'Isere in January 2015.
Annecy Live Surgery Shoulder Meeting:

This is a every other year meeting held in June. Dr. Laurent LaFosse is the Course Chairman and JP Warner is a surgeon participant. It is a unique shoulder surgery course in the world and over three days there are over 30 live surgeries broadcast from the local hospital to an audience of over 1000 surgeons. Highlights are the open microphone and live interaction with the operating surgeon. It is truly the best shoulder course in the world.


San Diego Shoulder Institute:

This is the largest Private Shoulder Meeting in the United States and takes place every June in San Diego. Dr. JP Warner is a member of the Board of Directors of the meeting.
Other Educational Resources
Shoulder Educational Database: Presentations, Videos, etc (2.5 Terabyte server). www.shoulderbrain.com
Annual New England Shoulder and Elbow Society Meeting each Jan/Feb. at Jay Peak, Vt. (all expenses paid for fellows) (www.neses.com)
Annual Visiting Professorship of NESES in Boston
Multiple Visiting Professors in Shoulder/Elbow each year.
Who We Are