Total Shoulder Replacement: Quality Snapshot for Dr. Warner, 2011-2014
Overview
243 total shoulder replacements (TSA) were performed from 2011 to 2014
196 (80.7%) responses on satisfaction or improvement

37 patients lost to follow up (did not respond to surveys) (15.2%); 10 patients were diseased or their mailing addresses were not deliverable (4.1%)
Survey Collection on TSA Quality
Surveys were mailed out to patients who underwent TSA between 2011 and 2014
3 questions were asked about the quality of TSA:

Are you happy with the outcome of your surgery, and would you do it again given this outcome? Y/N
What is your Subjective Shoulder Value (SSV), 0-100% (100% as normal)?
Did the surgery meet, exceed, or fall short of your expectations?
Patient Satisfaction
Patient satisfaction was defined as:

"Very Satisfied" with the outcome, if patients were happy with the surgery and would do it again 

and

SSV > 80%
"Satisfied" with the outcome, if patients were happy with the surgery and would do it again 

and

SSV < 80%
"Unhappy or worse" with the outcome, if patients were 

not

happy with the outcome and would 

not

do it again, or had worse function/more pain

Overall patient satisfaction

180/196 patients (92.8%) were happy with the outcomes of their surgeries
153/196 patients

(78.1%)

 were happy with their surgical outcomes 

and

had SSV > 80% 

("Very Satisfied")

14/196 patients (7.2%)

were not happy with their outcomes, or had worse function/more pain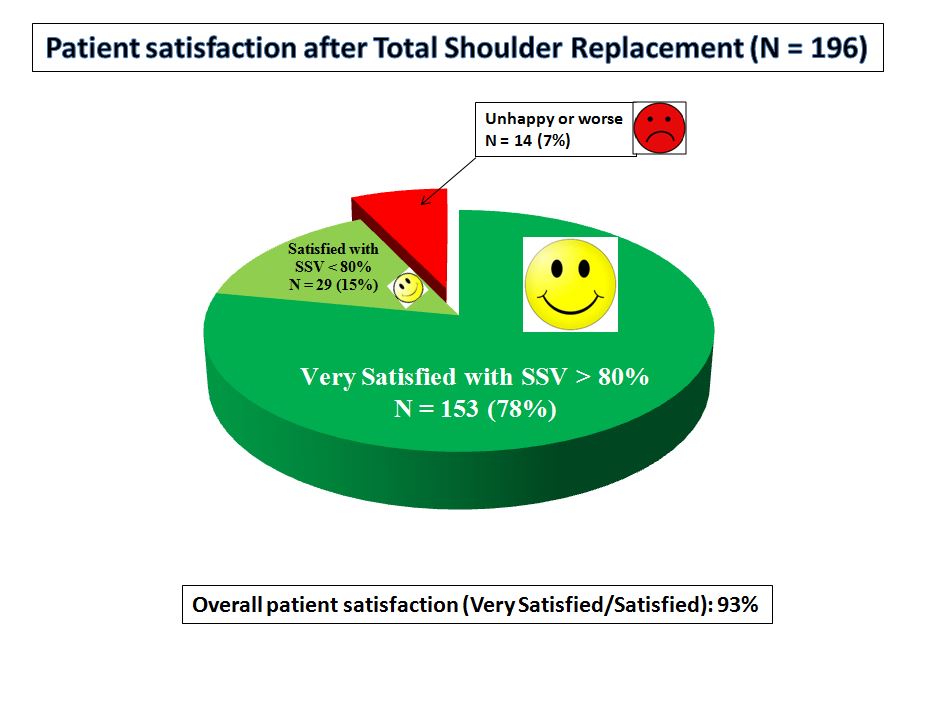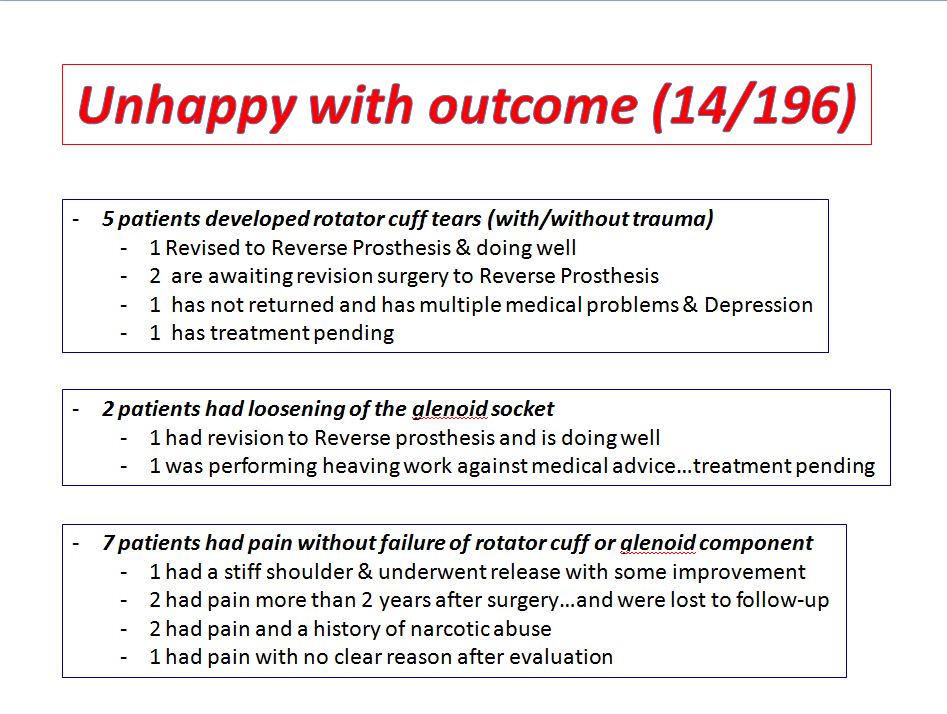 Patient Expectations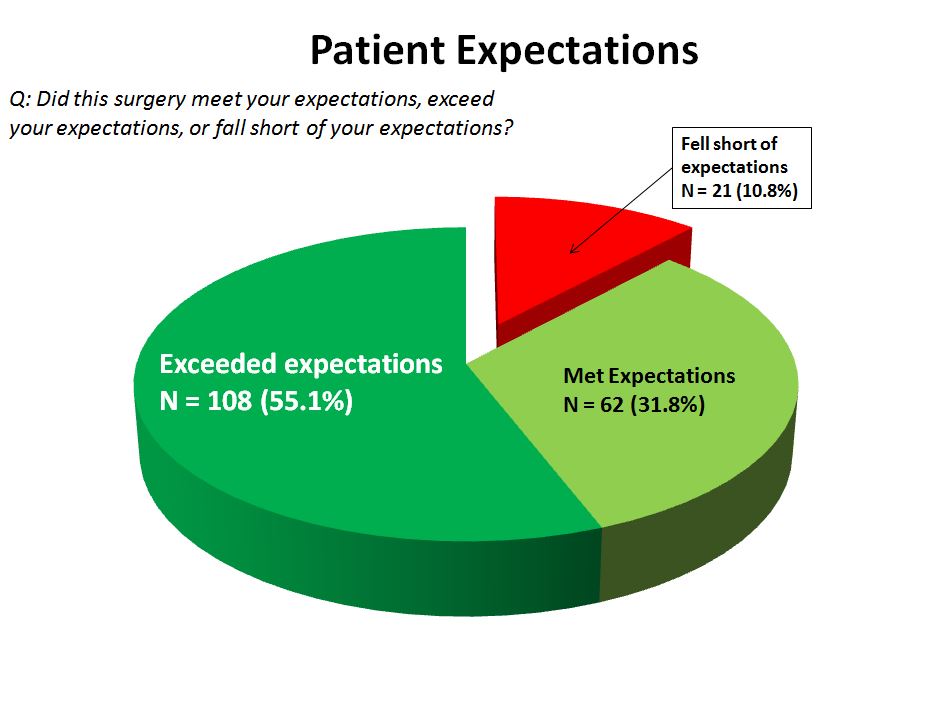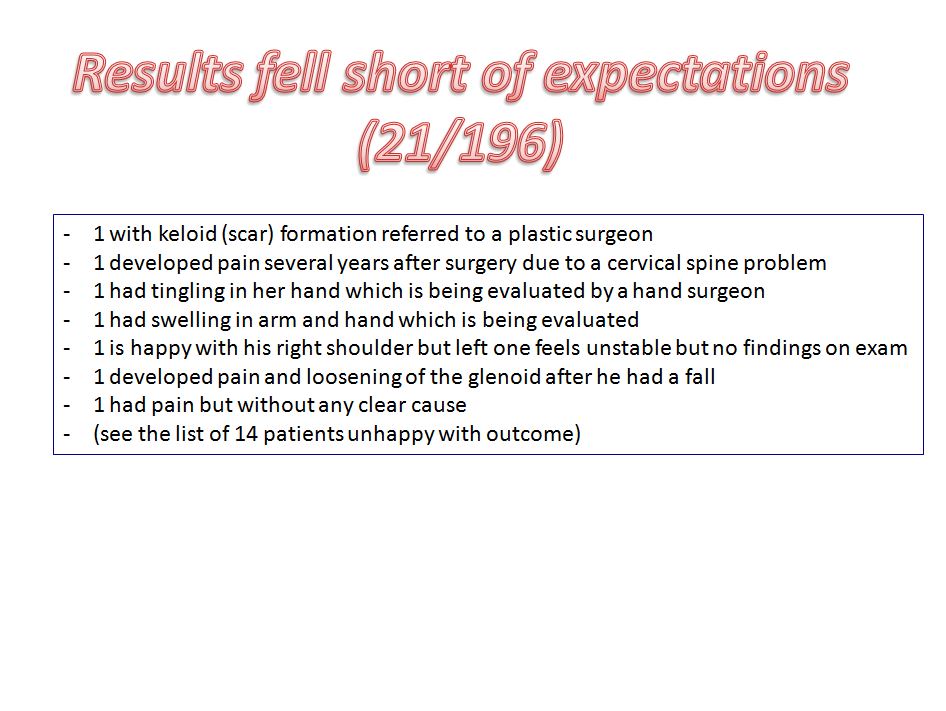 Complications: Patient Satisfaction, Resolved vs. Ongoing
There was a total of 28 complications out of 243 operations (11.5%)
Of the 28 complications, 

3

resulted in patient dissatisfaction (3/243 =

1.2%

)

NOTE: of 28 complications, 5 patients were deceased or had mailing addresses not deliverable, and 6 were lost to follow up (did not complete surveys)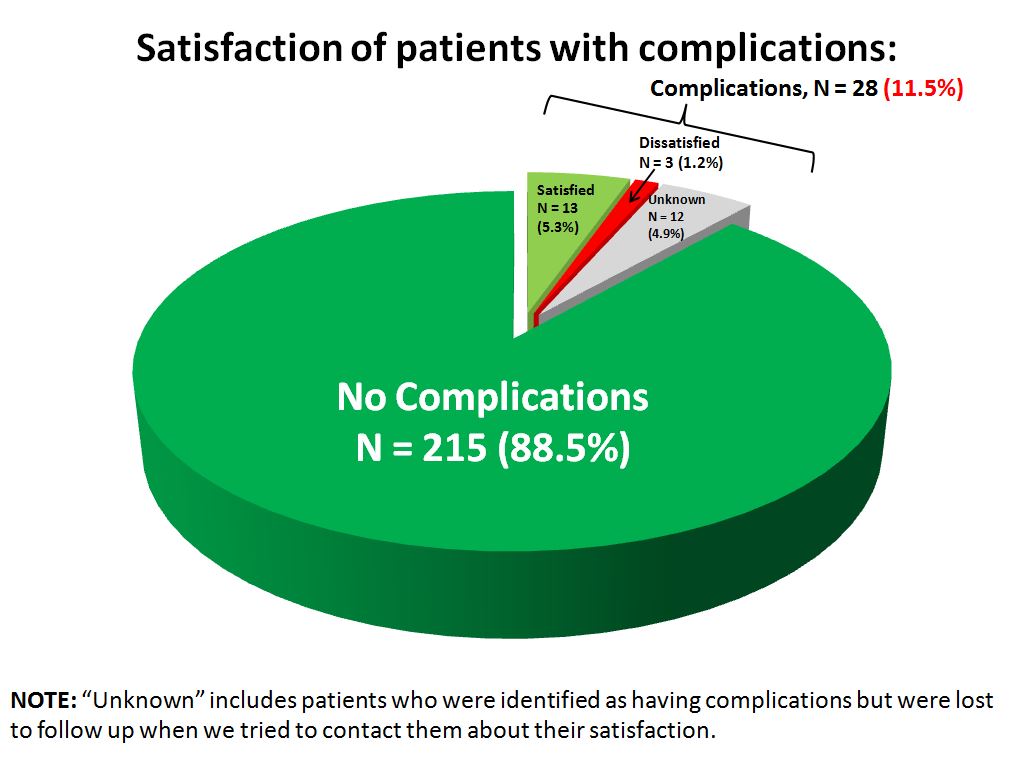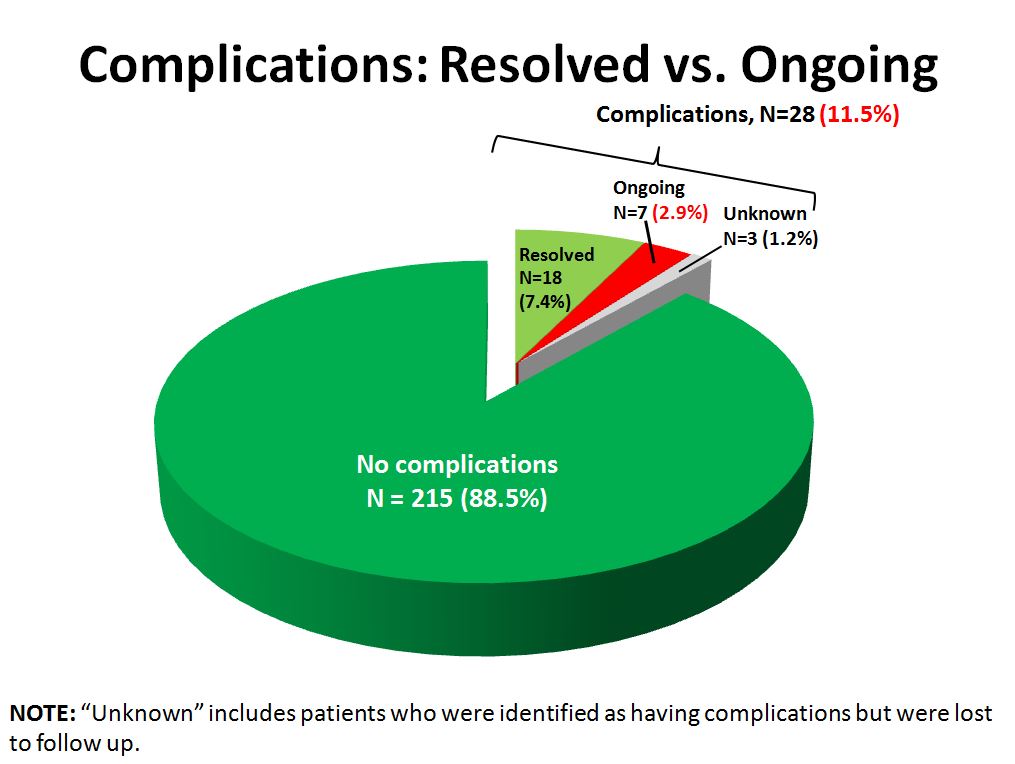 Complication: Results of Nerve Injuries, Readmission and Reoperation
8 patients were re-admitted to the hospital after surgery and subsequently re-operated on (8/243 =

3.3%

)

5 resolved, 2 ongoing, 1 lost to follow up

3 patients became infected after TSA (3/243 =

1.2%

)
10 patients had nerve issues after TSA (10/243 =

4.1%

)

6 resolved, 3 ongoing, 1 lost to follow up