Thank you for attending this year's annual BWH Orthopedics-Rehabilitation Services Course!
2015: Recent Advances in the Surgical and Rehabilitation
Management of the Rotator Cuff Deficient Shoulder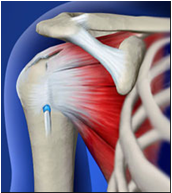 November 21, 2015
COURSE OVERVIEW
This course provided updates on the current evidence based practice for the surgical and rehabilitation management of the rotator cuff deficient shoulder. Participants watched two live surgeries, which was a unique opportunity that allowed one to better understand the surgical techniques for arthroscopic rotator cuff repair as well as an arthroplasty case. In addition, indications for shoulder procedures, physical exam, imaging, rehabilitation, and outcomes assessment were presented.
FACULTY
Reg B. Wilcox III, DPT, OCS (Course Director)
Laurence D. Higgins, MD, MBA (Course Director)
Stephanie Boudreau, DPT
Phil Kidd, DPT, OCS
Elizabeth Matzkin, MD
Brian Mosier, MD
Catherine Fedorka, MD
Cheri Blauwet, MD
We would love to hear from you
Please send all comments and recommendations for next year's course to Julie Binney at jbinney@partners.org
If you are interested in attending future courses and would like to be added to our mailing list, please email Julie with your name and address.