E. Amory Codman (1869 – 1940)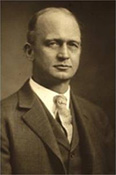 Codman could rightfully be considered the founding father of Shoulder Surgery in North America. During his illustrious career at Massachusetts General Hospital he also pioneered five other field of medicine: anaesthesiology, radiology, duodenal ulcer surgery, orthopaedic oncology, shoulder surgery, and the study of medical outcomes.
Codman developed his interest in Shoulder Surgery while a Medical Student in Germany in 1890. His publication in 1911 was the first report of rotator cuff repair (in English). In 1934 he published the book which defined his career, The Shoulder: Rupture of the Supraspinatus Tendon and other Lesser Lesions in or About the Subacromial Bursa. This book which commences with a unique autobiographical overview of the author's life, is the first book published on shoulder surgery (in English). Codman's insights into rotator cuff disease, proximal humerus fractures, shoulder anatomy and biomechanics, as well as shoulder rehabilitation was far ahead of its time. Codman also championed the "End Result" concept which was predicated on the importance of critical review of the outcome of each patient. His concepts actually formed the basis for The Joint Commission for Accreditation of Hospital Organizations (JCAHO), which now sets standards for Hospital quality and performance measures.
For these and other contributions, history has remembered him as the first great Boston Shoulder Surgeon, and in his time he had no peer.
E. Amory Codman – Biographical Sketch
Carter R. Rowe, M.D. (1906 – 2001)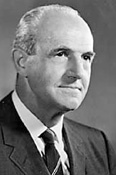 Carter R. Rowe, M.D. was a preeminent Boston Shoulder Surgeon who also acted as a leading Sports Medicine Physician during his career. He was the first true shoulder specialist in Boston and during his career he developed and advanced concepts of surgical treatment of shoulder injuries including The Bankart Repair for Instability. His publications on the management of instability of the shoulder formed the "gold standard" for care of these problems. Indeed, his name became synonymous with the Boston Shoulder Tradition, and his clinical experience formed the basis for development of many arthroscopic methods to treat shoulder instability.
Not only was he a founding member of the American Shoulder and Elbow Surgeons (A.S.E.S.) Society and the American Orthopaedic Society for Sports Medicine (A.O.S.S.M.), but he was also president of the American Orthopaedic Association (A.O.A.), one of the most prestigious organizations in Orthopaedics.
Robert D. Leffert, M.D. (1923 – 2008)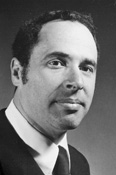 Dr. Robert Leffert was a renowned expert in the field of shoulder and upper extremity, and his key area of expertise related to the diagnosis and management of injuries of the Brachial Plexus and Thoracic Outlet Syndrome. He was an acknowledged pioneer in these areas and his original observations and experiences were chronicled in over 90 peer review publications and several books which he authored during his career. In fact, patients would travel from around the world to seek his expertise in management of their difficult shoulder problems. From 1972 through 1989 he acted as Chief of the MGH Dept. of Rehabilitation Medicine and The MGH Surgical Upper Extremity Rehabilitation Unit. He held the latter post until 1995 and was also appointed as Professor of Orthopaedic Surgery at Harvard Medical School and the MGH. In the latter part of his career he served as The President of the American Shoulder and Elbow Surgeons (A.S.E.S.) and as a member of the Orthopaedic Studies Section of the National Institutes of Health. He trained numerous Shoulder and Elbow Fellows and along with these disciples his legacy remains his original critical observations and insights into neurologic conditions affecting the shoulder girdle.
Gallery