Andres R. Muniz Martinez, MD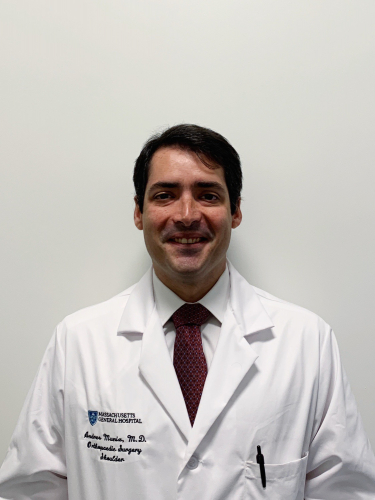 Dr. Muniz is originally from San Juan, Puerto Rico. He graduated from Marquette University with a Bachelor of science in Biology. After graduating Cum Laude, Dr. Muniz returned to Puerto Rico, where he obtained his Medical Doctorate from the University of Puerto Rico-Medical School. He graduated Cum Laude and was inducted in the Alpha Omega Alpha honor medical society.
He completed his Orthopedic Surgery residency at the University of Puerto Rico Medical Sciences Campus, where he was chosen as Chief Resident and Resident of the year during his final year.
Dr. Muniz was involved in an important research project where he studied the distribution and epidemiologic characteristics of Orthopedic Surgeons in Puerto Rico to better understand the necessities and distribution of surgeons throughout the island. This research project has been used in government meetings to help improve the availability of doctors in the community. He is living in Cambridge with his wife and enjoys golfing, running, and fishing. Dr. Muniz is very excited and proud to be part of the Boston Shoulder Institute, where he plans to learn as much as he can from Dr. Warner and his team. After completion, he plans to return to Puerto Rico to start his career and give back to the academic community and the island.
Florian Grubhofer, MD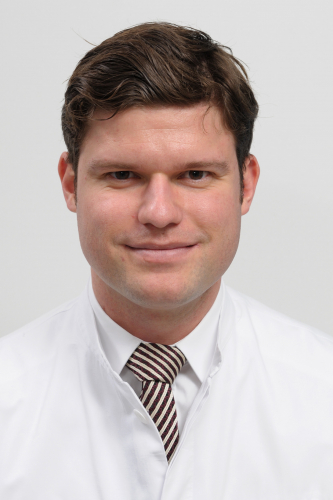 Dr. Grubhofer is a Swiss, Board-Certified Orthopedic Surgeon. He grew up in Dornbirn, Austria. After completing medical school at Medical University of Innsbruck, Austria in 2010 with his first "Doctor of Medicine" degree, he completed his internship at the Landeskrankenhaus Feldkirch, Austria that same year. He began his residency in 2011 at the University Hospital Zurich, Switzerland.
At University Hospital Zurich, he performed a two year "common trunk" surgery residency program which included visceral and transplant surgery (6 months), urology (6 months), plastic surgery, burn injury surgery and hand surgery (6 months), and traumatology (17 months). In March 2014, he started to work as a resident for orthopedic surgery at the Balgrist University Hospital in Zurich. In 2016, he received his second "Doctor of Medicine" degree from the University of Zurich. In January 2017, he finished his orthopedic surgery residency and started to work as a junior attending. After May 2017, he worked as an attending for orthopedic surgery in the shoulder team of Dr. Christian Gerber, who has been his chief and mentor since he started at the Balgrist University Hospital in March 2014.
From July 2018 to July 2019, he rotated as an attending orthopedic surgeon in the knee team of the Balgrist University Hospital. In 2018 he received the Educational Commission for Foreign Medicine Graduates (ECFMG) certification, which enables him to work as an orthopedic surgeon in the United States. Dr. Grubhofer has published 15 scientific articles and has presented his studies at the annual meeting of the American Academy of Orthopedic Surgeons in Orlando in 2016, Las Vegas in 2019, and at the International Congress of Shoulder and Elbow Surgery in Jeju, South Korea in 2016.

Beside his clinical work, he has been serving as "Team Physician" of the most successful soccer club in Switzerland, "Grasshoppers Zurich Soccer Club" since February 2015. 

He moved to Boston in July 2019 with his wife Lena, who is an OB/GYN physician in Zurich, and their little daughter Louisa, who was only 13 weeks old when she arrived in Boston. Dr. Grubhofer enjoys playing tennis and skiing, which is the most popular sport in his home country, Austria. He is proud and very happy to have the opportunity to work as one of Dr. Warner's shoulder fellows at the Boston Shoulder Institute.