Gregory Gasbarro, MD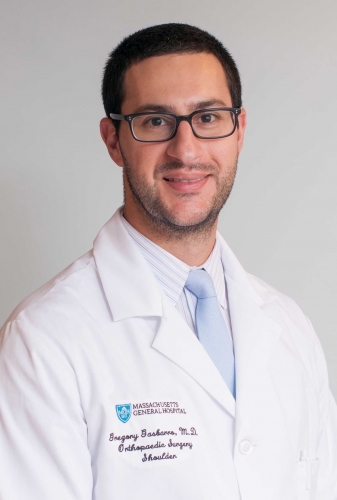 Dr. Gasbarro is originally from Northeast Ohio. He received his Bachelor of Science degree in Biomedical Engineering from Case Western Reserve University. While at CWRU he played varsity soccer, serving as a 2-year team captain and leading the school to a Sweet 16 finish in the NCAA tournament during his Senior year.
Dr. Gasbarro later received his Doctorate of Medicine degree from the University of Maryland School of Medicine, graduating Magna Cum Laude and was also inducted into the Alpha Omega Alpha Honor Medical Society. After medical school, he completed his Orthopaedic Surgery residency at the University of Pittsburgh Medical Center and was awarded the Most Outstanding Chief Resident award at graduation.
Dr. Gasbarro has published over 20 scientific articles and abstracts and has presented his research at over 30 regional, national, and international meetings. He is living in the North End and enjoys spending time with his wife and dog, running along the Charles, and playing golf. He looks forward to the unique opportunities that this fellowship affords, both in Boston and in the South of France.
After completion of his fellowship, Dr. Gasbarro will be returning to the Mid-Atlantic to start his career.
Joseph Galvin, DO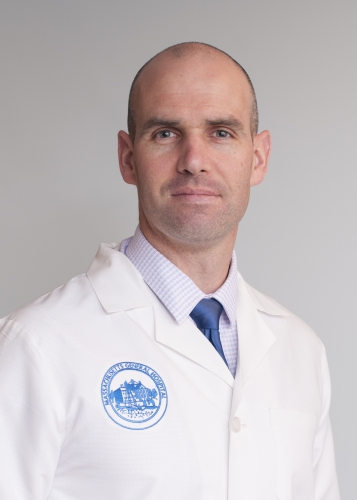 Dr. Galvin is a Board-Certified Orthopaedic Surgeon. He grew up in Redwood City, California. He received a Bachelor of Science in Mechanical Engineering from the United States Military Academy at West Point in 2003. Following West Point, he was commissioned as an Army airborne ranger infantry officer in the 82nd Airborne Division and deployed for 1-year to Eastern Afghanistan (2005-2006) as a platoon leader where he was awarded the bronze star medal. He also is a graduate of the US Army Ranger, Jumpmaster, Airborne and Air Assault schools.
Following his transition from the Infantry to medicine, he completed medical school at A.T Still University-Kirksville College of Osteopathic Medicine and orthopaedic surgery residency at Madigan Army Medical Center in Tacoma, Washington in 2016.
His first assignment following residency was at Blanchfield Army Community Hospital, Fort Campbell, Kentucky, where he cared for the Soldiers of the 160th Special Operations Aviation Regiment "Night Stalkers," 5th Special Forces Group, and 101st Airborne Division. He also deployed to the hostile North Sinai, Egypt region for 6 months as Chief of Orthopaedics for a Damage Control Surgical Team.
He is an Assistant Professor of Surgery, Uniformed Services University of Health Sciences, and has received several research awards as a resident including the Eastern Orthopaedic Association resident travel grant, and was twice the resident paper award winner at the Western Orthopaedic Association annual meeting. Dr. Galvin enjoys golfing, spending time with his family (wife – Keyna, 6-year old daughter – Keira, 2-year old son – Grayson, 3-month old son-Micah), and is looking forward to exploring Boston and France/Switzerland.
Zachary Zimmer, MD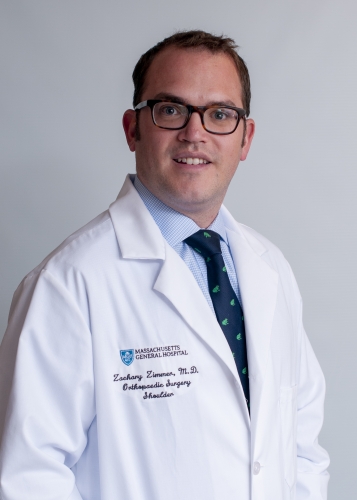 Dr. Zimmer grew up in Garden City, New York.  He graduated from Colgate University with a Bachelors of Arts in Molecular Biology.  He received his Doctorate of Medicine degree from Stony Brook University School of Medicine, during which he was inducted into the Alpha Omega Alpha Honor Medical Society.  Following medical school, Dr. Zimmer completed his orthopaedic surgery residency at the University of Pennsylvania.  Upon graduation, he was awarded the DeForest P. Willard Award for excellent performance by a senior resident and the Joseph P. Iannotti Award for excellence in shoulder surgery.
Prior to starting medical school, Dr. Zimmer spent a year as Dr. Warner's research assistant, helping previous fellows and residents with various research projects.  He also assisted in the recording and editing of surgical technique videos, some of which had been accepted and displayed at the American Academy of Orthopaedic Surgeons Annual Meeting.  He also co-authored several publications and book chapters.  It was this research experience that inspired Dr. Zimmer to pursue a career in shoulder and elbow surgery.
Dr. Zimmer enjoys cooking, dining out and spending time with his wife, Courtney, and daughter, Lilly.  He and his wife are excited to be back in Boston and are looking forward to an educational year here and in France.