Welcome to the Boston Shoulder Institute
The Boston Shoulder Institute is based at the Massachusetts General Hospital. We specialize in management of all problems affecting the shoulder and have a particular emphasis on management of failed treatments, arthroscopic reconstruction, joint replacement for arthritis, and more. Read our mission statement, meet the doctors, or contact us to learn more.
Meet Jon J.P. Warner, M.D.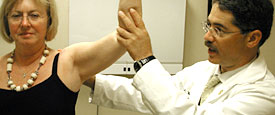 Jon J.P. Warner, M.D. is the Chief of the MGH Shoulder Service and Co-Chief of the Boston Shoulder Institute at Harvard Medical School. He came to Boston in April of 1998 from the University of Pittsburgh Medical Center, where he served as Chief of the Shoulder Service for 8 years.